Personal Note
Hello! Thank you for visiting my website. I am a Romanian soprano who is passionate about opera and all things classical.
Enjoy!
Diana
Concert on May 26th!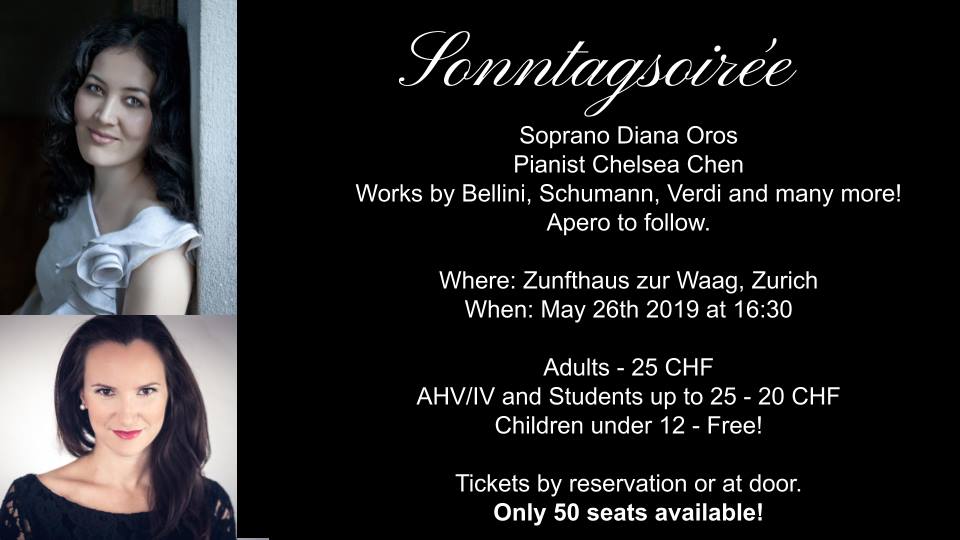 I have a concert on May 26th in Zurich! See my Facebook feed for details.
If you want to reserve your tickets, send me a message on Facebook or an email at reservations@dianaoros.com.
Audio / Video
Biography
Diana Oros was born in Romania and moved to Canada at the age of ten. She attended the University of British Columbia where she completed both a Bachelor's and Master's Degree in Music specializing in Opera Performance. She has sung in various countries including Canada, the United States, the Czech Republic, Romania, Italy, Austria, Germany and Switzerland. She has worked with various conductors such as Giampaolo Bisanti, Julian Smith, David Agler, Norbert Baxa, Keneth Hsieh, Stefano Vignati, Bramwell Tovey and Tyrone Patterson. Some of her roles include Violetta Valéry in La Traviata, Mimi and Musetta in La Bohème, Contessa Almaviva in Le Nozze di Figaro, Donna Elvira in Don Giovanni and Hanna Glawari in die Lustige Witwe.
Contact
If you need to contact me please use my email address.